професор
проф. д-р Велина Славова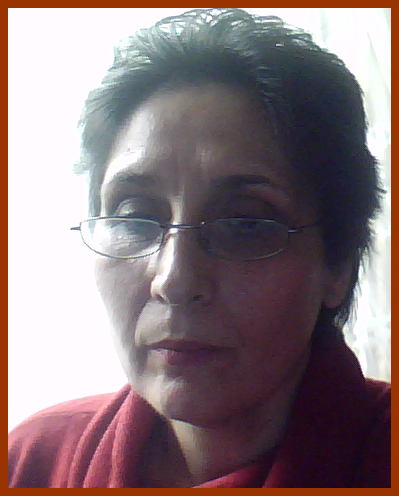 Академична длъжност:
професор
Приемно време:
Петък 14:00-16:00 712 II Корпус
Събота 13:00-15:00 712 или 110 за извънредните изпити II Корпус
Сряда 18:30-19:00 ОНЛАЙН https://meet.jit.si/VelinaSlavovaNBUmeeting Онлайн
Професионална автобиография:
Образование
Машинен Инженер, Висш Машинно-Електротехнически Институт, София
Инженер - специалист по приложна математика и информатика, Център за приложна математика при ВМЕИ
Кандидат на техническите науки, ВАК
Специализация по роботика, Ecole Nationale des Mines de Paris
Специализация по когнитивна наука, Нов Български Университет
Доцент по информатика, ВАК, НАЦИД

Преподавателски опит
ВМЕИ - Технология на уредостроенето, Числени методи
Нов български университет, от 1995 - Алгоритми, Структури данни, Бази данни, Числени методи, Обработка на естесвен език
Франкофонски Институт по Управление (ESFAM-AUF Sofia), от 1998, Обработка на данни, Бази данни, Информационни системи, Статистика
Университет на Нант, (Université de Nantes), ежегодно поканен преподовател 1999 - 2017, Обработка на данни, Бази данни
Френски Университет на Египет (Université Française d'Egypte), ежегодно поканен преподовател 2005 - 2012, Информационни системи, Алгоритми и структури

Международна дейност и членство в научни и образователни организации
Многобройни международни проекти, най-вече с образователен характер, между които – Ръководител на международен проект 85427-IC-1-2000-1BG-ERASMUS-PROG1. Orirginal Program in Computer Linguistics, New Bulgarian University (coordinator), University of Nantes and Vrije Universiteit Brussels.
Член на Научния Съвет на Франкофонската Университетска Агенция (AUF) като представител на страната, 2004-2010. Участие в комисии за оценка на образователни прогами и научно-изследователски звена в страни от Европа, Азия, Африка и Северна Америка. Член на Регионалното Бюро на експертите на AUF, 2006 -2016.
Съпредседател, от 2007, на международната конференция по Когнитивно Моделиране в Лингвистиката.






Публикации:
Journal Publications
Slavova, V., & Andonov, F. (2022). Bad news or good news when recognizing emotional valence using phonemic content. In 2022 21st International Symposium INFOTEH-JAHORINA (INFOTEH) (pp. 1-6). IEEE. DOI: 10.1109/INFOTEH53737.2022.9751339
Slavova V. (2021), On the revealing the emotional valence in communication by text, Procedia Computer Science 192 (2021) 1514–1523, https://doi.org/10.1016/j.procs.2021.08.155
Sidhu, D., Williamson, J., Slavova, V., & Pexman, P. M. (2021). An investigation of iconic language development in four datasets. Journal of Child Language, 1-15. doi:10.1017/S0305000921000040
Velina Slavova: Emotional Valence Coded in the Phonemic Content–Statistical Evidence Based on Corpus Analysis. Cybernetics and Information Technologies, 20(2). DOI: 10.2478/cait-2020-0012
Velina Slavova: Towards emotion recognition in texts: A sound-symbolic experiment. International Journal of Cognitive Research in Science, Engineering and Education, 7(2), 41-51. DOI: 10.5937/IJCRSEE1902041S
Velina Slavova: Notes on the "Self-Centered" Factor, Based on Data from Child Language Acquisition. Psychology in Russia: State of the art 12, no. 1 (2019). DOI: 10.11621/pir.2019.0113
Velina Slavova: Information-Processing Model of Concept Formation – Is First Language Acquisition Universal?. Cybernetics and Information Technologies 09/2018; 18(3):3-22., DOI:10.2478/cait-2018-0035
Velina Slavova: On native semantic roles: Comparative study based on data from child language acquisition of English and French. 12/2017; Vol. 5(No.2, 2017):1-18., DOI:10.5937/IJCRSEE1702001S
Filip Andonov, Velina Slavova, Georgi Petrov: ON THE OPEN TEXT SUMMARIZER.
Filip Andonov, Velina Slavova, Marouane Soula: HEURISTICS-BASED CLASSIFIER IN A FRAMEWORK FOR SENTIMENT ANALYSIS OF NEWS.
Velina Slavova, Dimitar Atanasov, Filip Andonov: GENDER DIFFERENCES IN THE USE OF NOUN CONCEPT CATEGORIES – A STATISTICAL STUDY BASED ON DATA FROM CHILD LANGUAGE ACQUISITION.
Velina Slavova, Alona Soschen: ON MENTAL REPRESENTATIONS: LANGUAGE STRUCTURE AND MEANING REVISED.
Velina Slavova, Alona Soschen: SYNTACTIC OPERATIONS – MODELING LANGUAGE FACULTY.
Lyubomir MIRCHEV, Velina Slavova, Hristian Elefteridis: MODÈLE DES TRANSFORMATIONS DU SYSTÈME FINANCIER – SIMULATION PAR APPROCHE RÉSEAU.
Velina Slavova, Hichem Sahli, Werner Verhelst: Multi-modal emotion recognition - more "cognitive" machines,. DOI:10.13140/2.1.4581.2809
Alona Soschen, Velina Slavova: THE ARGUMENT BASED COMPUTATION: SOLVING THE BINDING PROBLEM. DOI:10.13140/2.1.5132.1924
Velina Slavova, Lyubomir Mirchev, Hristian Elefteridis: A Graph Model of Choked Financial System.
Velina Slavova, Alona Soschen: Experimental support of syntactic computation based on semantic merge of concepts. DOI:10.13140/2.1.2840.4801
Velina Slavova, Werner Verhelst, Hichem Sahli: A COGNITIVE SCIENCE REASONING IN RECOGNITION OF EMOTIONS IN AUDIO-VISUAL SPEECH.
Velina Slavova, Alona Soschen: EXPERIMENTAL SUPPORT OF ARGUMENT-BASED SYNTACTIC COMPUTATION.
Safwan El Assad, Velina Slavova, Gilles Nachouki: Cognitive Approach to e-Learning in Sciences and Technologies.
S. El Assad, V. Slavova, G. Nachouki: WBLST - E-Learning System for Sciences and Technologies. DOI:10.1109/ICTTA.2006.1684455
V. Slavova, A. Soschen, L. Immes: INFORMATION PROCESSING IN A COGNITIVE MODEL OF NLP.
Velina Slavova, Alona Soschen: Parallel Language and Semantic Treatment in AGN. Cybernetics and Information Technologies 01/2005; Bulgarian Academy of Sciences(volume 5, number 2).
Velina Slavova: A generalized net for natural language comprehension. Advanced Studies in Contemporary Mathematics (Kyungshang) 01/2004; 2(2).
S. El Assad, X. Morin, D. Barba, V. Slavova: Compression of Polarimetric Synthetic Aperture Radar Data», Journal of Electromagnetic Waves and Applications, Vol. 17, N° 5, 747-748, 2003. Livre: Progress In Electromagnetics Research, PIER 39, 125-145, 2003. by: - S. El Assad, X. Morin, D. Barba, V. Slavova. Progress In Electromagnetics Research 01/2003; 39:125-145.
Velina Slavova: Object Structure of an Application for Tolerance Simulation of a Mechanical Unit in a CAD System. Cybernetics and Information Technologies 01/2003; vol. 3(No 1. Sofia, 2003, Bulgarian Academy of Sciences).
S. El Assad, X. Morin, D. Barba, V. Slavova: Compression of Polarimetric Synthetic Aperture Radar Data — Abstract. Journal of Electromagnetic Waves and Applications 01/2003; 17(5):747-748., DOI:10.1163/156939303322226419
S. El Assad, X. Morin, D. Barba, V. Slavova: Compression of Polarimetric Synthetic Aperture Radar Data. Progress In Electromagnetics Research 01/2003; 39:125-145., DOI:10.2528/PIER02053002
Par Petko STAYNOV, Par Vélina SLAVOVA: Principes de partage des ressources pédagogiques pour la conception de cours en ligne dans un cadre universitaire.
Velina Slavova, Theodor Kujumdjieff: The Association Cup model.
https://www.researchgate.net/profile/Velina_Slavova

Conference Proceedings

Velina Slavova: CREATION OF A CORPUS OF CHILD SPEECH ANNOTATED WITH ICONICITY. The XIX -th International Conference "Cognitive Modeling in Linguistics" (CML-2018), Tel Aviv, Israel; 09/2018
Velina Slavova, Filip Andonov, Marouane Soula: ON SENTIMENT ANALYSES OF FINANCIAL NEWS – A SYSTEM DESIGNED FOR THE SOCIAL CONTEXT. The XVII-th International Conference «Cognitive Modeling in Linguistics. CML-2016», Lloret de Mar, Spain; 09/2016
Velina Slavova, Filip Andonov, Dimitar Atanasov: A STUDY OF NOUN CONCEPT CATEGORIES USING DATA FROM CHILD LANGUAGE ACQUISITION-AN OUTLINE. The 12th Annual International Conference on Computer Science and Education in Computer Science, July 01-04, 2016, Germany, Germany; 07/2016
Velina Slavova: DATA COLLECTION FOR STUDYING LANGUAGE ACQUISITION. The 12th Annual International Conference on Computer Science and Education in Computer Science, Fulda and Nurnberg, Germany; 07/2016
Filip Andonov, Velina Slavova, Marouane Soula: TEXT MINING AND GENDER DETECTION WITHIN A SYSTEM FOR SENTIEMENT ANALYSIS. CSECS 2016, July 1-2 2016, Fulda, July 3-4 2016, Nürnberg, Germany, Fulda, Nürnberg, Germany; 07/2016
Dimitar Atanasov, Velina Slavova, Filip Andonov: A STATISTICAL STUDY OF FIRST LANGUAGE ACQUISITION: NO GENDER DIFFERECES IN THE USE OF PARTS OF SPEECH. The 12th Annual International Conference on Computer Science and Education in Computer Science, Fulda and Nurnberg, Germany; 07/2016
Filip Andonov, Velina Slavova, Marouane Soula: A FRAMEWORK FOR SENTIEMENT ANALYSIS OF FINANCIAL NEWS – USNG HEURISTICS-BASED CLASSIFIER. THE III-nd INTERNATIONAL FORUM ON COGNITIVE MODELLING (IFCM-2015, September 14-21, 2015, Varna, Bulgaria), Varna, Bulgaria; 09/2015, DOI:10.13140/RG.2.1.4544.9047
Filip Andonov, Velina Slavova: SOME IMPROVEMENTS OF THE OPEN TEXT SUMMARIZER ALGORITHM USING HEURISTICS. 10 TH ANNUAL INTERNATIONAL CONFERENCE ON COMPUTER SCIENCE AND EDUCATION IN COMPUTER SCIENCE 2014, Albena, Bulgaria; 07/2014, DOI:10.13140/2.1.3813.2000
Velina Slavova, Bojidar Hinkov: MULTIMODAL SENTIMENTS ANALYSES OF FINANCIAL NEWS – A PROJECT OUTLINE. The 10th Annual International Conference on Computer Science and Education in Computer Science, July 06-10 2014, Albena, Bulgaria; 07/2014, DOI:10.13140/2.1.2330.5284
Lyubomir Mirchev, Velina Slavova, Hristian Elefteridis: FINANCIAL SYSTEM TRANSFORMATION - A NETWORK APPROACH. 27èmes Journées d'Économie Monétaire et Bancaire • Groupement de Recherche Européen « Monnaie Banque Finance », Université Montesquieu - Bordeaux IV", Bordeaux, France; 01/2010, DOI:10.13140/2.1.3594.1447
Lyubomir Mirchev, Velina Slavova, Hristian Elefteridis: FINANCIAL SYSTEM TRANSFORMATION - A NETWORK APPROACH. 27èmes Journées d'Économie Monétaire et Bancaire • Groupement de Recherche Européen « Monnaie Banque Finance », Université Montesquieu - Bordeaux IV", Bordeaux, France; 01/2010
Velina Slavova, Theodor Kujumdjieff: The cognitive analytism of the Bulgarian language. 11-rd International Conference in Cognitive Modelling in Linguistics, CML-2009, Constantza (Romania); 09/2009, DOI:10.13140/2.1.5158.8163
Velina Slavova, Alona Soschen: Syntactic computation and semantic merge. 12 international conference in Cognitive Modelling in Linguistics. Montenegro, Montenegro, Becici; 11/2008, DOI:10.13140/2.1.3561.3766
Alona Soschen, Velina Slavova: Cognitive Modeling of Recursive Mechanisms in Syntactic Processing. IX international conference Cognitive Modeling in Linguistics, Sofia 2007; 12/2007, DOI:10.13140/2.1.4171.6800
Velina Slavova, Alona Soschen: A Fibonacci-tree model of cognitive processes underlying language faculty. 3-rd international conference in Computer Science, NBU, University of Fulda, Boston University,; 08/2007, DOI:10.13140/RG.2.1.1074.4407
Velina Slavova, Alona Soschen: A formal account of argument based syntax. IX international conference Cognitive Modeling in Linguistics, Sofia 2007; 03/2007, DOI:10.13140/2.1.4392.8641
Velina Slavova, Alona Soschen: A Fibonacci-tree model of cognitive processes underlying language faculty,. The 3-rd international conference in Computer Science and Education in Computer Science, NBU, University of Fulda, Boston University, p.-p. 196-205Education in Computer Science, NBU, University of Fulda, Boston U:, Borovetz, Bulgaria; 02/2007
Velina Slavova, AlonaSoschen: A formal account of argument based syntax x. IX international conference Cognitive Modeling in Linguistics, Sofia 2007; 01/2007
Velina Slavova, Alona Soschen: Processing of Syntax, based on Semantic Operations. Second Biennial Conference on Cognitive Science, June 9-13, 2006, St. Petersburg, Russia,, Petersburg, Russia,; 01/2006
Velina Slavova, Alona Soachen: Cognitive systems and semantic knowledge. INTERNATIONAL CONFERENCE "COGNITIVE MODELING IN LINGUISTICS" CML Varna 2005; 09/2005, DOI:10.13140/2.1.2426.7844
Alona Soschen, Velina Slavova, Luke Immes: Using Database Tables and a Non-standard Neural Network Model, for Internal Cognitive Representations. International Workshop "COMPUTER SCIENCE AND EDUCATION", June, 3-5 2005, Borowetz-Sofia, Bulgaria; 07/2005
Alona Soschen, Velina Slavova: Information System Approach to Semantics. Inernational Confetence ""Cognitive modeling in Linguistics", Varna, Bulgaria; 04/2005, DOI:10.13140/RG.2.1.1025.8001
Velina Slavova, Alona Soschen: Cognitive Systems and Semanyic Knowledge. 8-th international conference Cogntive Modeling in Linguistics, Varna 2005, p.-p. 20-31; 02/2005, DOI:10.13140/2.1.2885.5360
Velina Slavova, Krasimir Atanasov: A GENERALIZED NET FOR MODELING WORKING MEMORY AND LANGUAGE PROCESSING. 7-th International conference Cognitive modeling in linguistics, Varna 2004, p.-p. 90-101; 03/2004, DOI:10.13140/2.1.4286.3680
Xie Lei, Jiang Dongmei, I. Ravyse, W. Verhelst, H. Sahli, V. Slavova, Z. Rongchun: Context dependent viseme models for voice driven animation. Video/Image Processing and Multimedia Communications, 2003. 4th EURASIP Conference focused on; 08/2003, DOI:10.1109/VIPMC.2003.1220537
Technical Reports

Books
Velina Slavova, "Language, concept formation and child language acquisition – an information modeling approach", Professor Marin Drinov Academic Publishing House of the Bulgarian Academy of Sciences, Sofia, 2022, ISBN–978–619–245–221–6.
Velina Slavova, Stanislav Ivanov: Увод в алгоритмите и програмирането. 1 04/2004; Издателство Нов български университет., ISBN: 954-535-297-3
Velina Slavova: La conception d`une base de données relationnelle. Edited by Agence universitaire de la Francophonie, IFAG 2003, 03/2003; Агата-А. подвързия: мека. формат: друг. език: Френски.., ISBN: ISBN 954-540-033-1



Курсове от текущия семестър: